Go back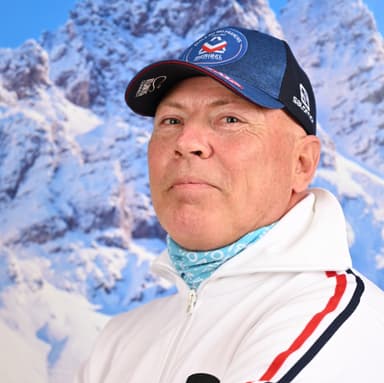 Activities
Alpine skiing

and
Ski nursery (Alpine)
Spoken languages
French -
English -
Russian
Enchanted by the beauty of the countryside and an expert in skiing, Patrice has been an instructor since 1977.
About
Patrice learned to ski when he was a young boy. He then, like many instructors, took part in competitions, which allowed him to improve and work as a coach for a junior team for a while. In order to best teach his passion for skiing, Paul is patient and attentive so that his clients have fun, whatever their level. Having skied in many resorts, Patrice wanted to settle in what he considers to be the best place in Europe. He therefore chose to join the ranks of the esf Méribel, a school which in his eyes is a guarantee of professionalism, quality teaching and knowledge of the environment.
At the end of the winter, Patrice puts away his skis but keeps his teacher's cap, as he is also a tennis teacher, a language teacher but also a translator and an interpreter. He is also someone who enjoys travelling, scuba diving with his wife and spending time reading. Patrice has also taught skiing in many European resorts, in the United States, Australia and South America.
Patrice's best memories of teaching, having had the chance to ski in different resorts around the world, are the smiles of the clients who were terrified to hit the slopes. His favourite slopes are Mont Vallon and Altiport.
When would you like to ski with me?