Go back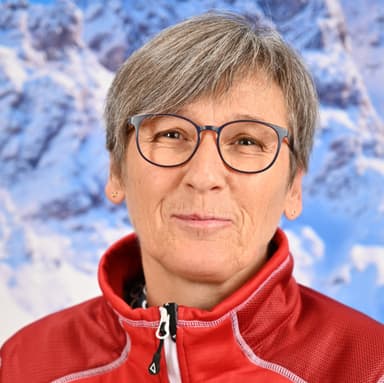 Originally from the valley, Nathalie is passionate about the mountain environment and became an instructor 34 years ago.
About
Born in the huge 3 Vallées ski area, Nathalie first skied when she was 5 years old. Very quickly, at the age of 6, Nathalie joined the Méribel ski club which enabled her to make competition a large part of her life. After the ski club, she joined the Savoie Ski Committee and ended up in the French team for 11 years. Nathalie has therefore practised high level ski competition and has several French championship titles to her credit.
For her, becoming an instructor was essential thanks to the freedom of the profession but also to the unique environment. Her pedagogy is based on patience, progressing step by step while taking advantage of the environment offered to the students. Her best memory is of a professional encounter which has turned into a friendship for 15 years now. Nathalie believes that esf is a guarantee of quality and respect.
Apart from her passion for snow sports, Nathalie enjoys quieter activities such as reading or walking. In addition, whenever the opportunity arises, Nathalie can ski abroad. These trips allow her to realise that the Trois Vallées ski area is one of the best.
Her favourite slopes in Méribel are the combe du vallon and the iron rock area.
When would you like to ski with me?