Go back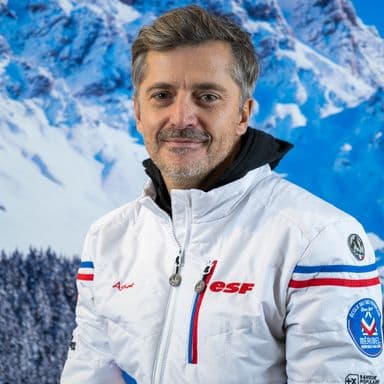 Activities
Alpine skiing

and
Ski nursery (Alpine)
Spoken languages
French -
English -
Spanish -
Portuguese
A specialist in off-piste skiing, Julien has been happy to share his expertise with you for 20 years.
About
On skis for as long as he can remember, Julien has a passion for skiing in his blood thanks to his father, a ski instructor in Méribel since 1971. It is with his father's wise advice that he was able to progress quickly and take part in alpine skiing competitions at university level before taking part in freeride competitions until 2006. It was important for Julien to follow in his family's footsteps and become an instructor, while at the same time honouring his love of board sports. In his eyes, esf inculcates seriousness and has incredible material and human resources for the happiness of its clients.
With a pedagogy based on trust and games, you can only have a good time in his company! His best teaching memory is to have introduced young skiers to the pleasures of off-piste skiing.
Off the slopes of Méribel, Julien is an expatriate engineer in Mexico. His hobbies are surfing, climbing, boxing, cycling and history! During expeditions to Russia, Italy and Spain, he was able to realise how lucky skiers are in the 3 Valleys.
In Méribel, his favourite slopes are off-piste: the red blackberries, Valdez and Mont Vallon.
When would you like to ski with me?