Go back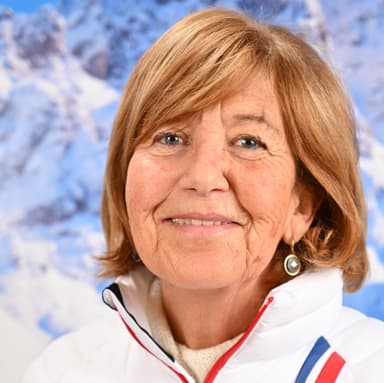 Activities
Alpine skiing

and
Ski nursery (Alpine)
Born in Grenoble, Brigitte has been an esf Méribel instructor for 50 years!
About
Brigitte discovered skiing when she was 3 years old. When she was still a child, her parents built a chalet in Méribel, which allowed her to spend all her weekends and school holidays there. In love with the resort and its unique valley, it was logical for Brigitte to become an esf instructor to pass on her passion. For 50 years, she has been passing on her passion by giving a warm welcome to all her students. She also knows how to adapt to each child and their needs. In her eyes, esf Méribel is a vehicle of seriousness and professionalism. Her best teaching memory is of a little girl who absolutely did not want to take part in a group lesson and who ended up not wanting to go back to her parents.
Outside of Méribel, she is a receptionist at the Grenoble Convention Centre. Brigitte has many interests such as windsurfing, diving, swimming, water skiing and hiking. In Méribel, her favourite slopes are the Altiport, the Saulire and the Tougnette.
When would you like to ski with me?